function noclic(clic) { var mess="Copyright © 2007 "OVNIClub", tous droits réservés"; if (navigator.appName == 'Netscape' && clic.which==3) { alert(mess); } else if (navigator.appName == 'Microsoft Internet Explorer' && event.button==2) { alert(mess); }} if (document.layers) { document.captureEvents(Event.MOUSEDOWN); } document.onmousedown = noclic; //-->
Used boat in aluminium; OVNI 435 by Alubat, France
First-owner sailing boat for sale, custom made in 2004
Aluminum centerboarder equipped for blue water sailing & circumnavigation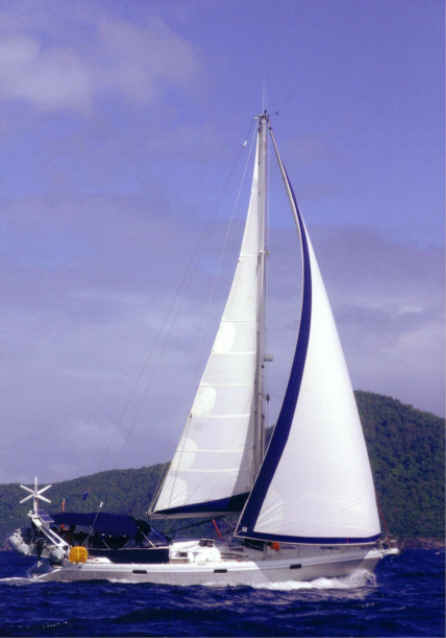 THE YACHT &nbsp&nbsp&nbsp&nbsp&nbsp&nbsp&nbsp&nbsp

&nbsp&nbsp&nbsp&nbsp&nbsp&nbsp&nbsp&nbsp




See pictures of boat's interior

This Ovni435 description & main equipment

Boat building details at Alubat shipyard

Details on custom equipment and Alubat options :
Equipment details for comfort
Details on ventilation and some security systems
More equipment details & single handling


Alubat standard specifications re. Ovni 435

The Alubat OVNI 435 and this yacht

Excerpts from Blue Water Sailing Magazine

Bonus&nbsp&nbsp Links&nbsp&nbsp Contact

See also : Ovni Yachts Owners French Association



Footnotes : Boat OVNI & Alubat are Société Chantiers Alubat registered trademarks. Text and photos copyright © 2006 "Yacht Lei Lani"; all rigths reserved.









Purpose of these internet pages:

Display pictures of this Ovni 435, as well as some details on its comprehensive equipment and options for high seas cruising. For those not familiar, provide information on aluminum boats building by shipyard Alubat in France, and its "lifting keel" sailing boats range Ovnis. Also included in these pages are pictures of the boat under sail or at anchor, and useful links to sailing boats & navigation forums. The text below is a draft for developing used boats ads and publication in boating classifieds. What would be the best location or media to publish an ad for a second-hand ovni yacht for sale in the south of France ? How about including : "Purchase a first-owner Ovni yacht directly in the mediterranean and start your circumnavigation in Europe". Selling now a preowned Alubat boat custom-made for blue water sailing and lying twenty minutes by car from the Toulon Provence-Cote d'Azur airport. A great opportunity for experienced sailors looking for an aluminum used boat : a "first owner" aluminium passagemaker for sale on the French Riviera. For more specific information on Alubat and ovni boat range as well as many Alubat options, see link to UK representative on this site, as well as a link to excerpts from Blue Water Sailing magazine articles published in 2002.